Buying Your Second Tailor Made Suit
September 18th, 2017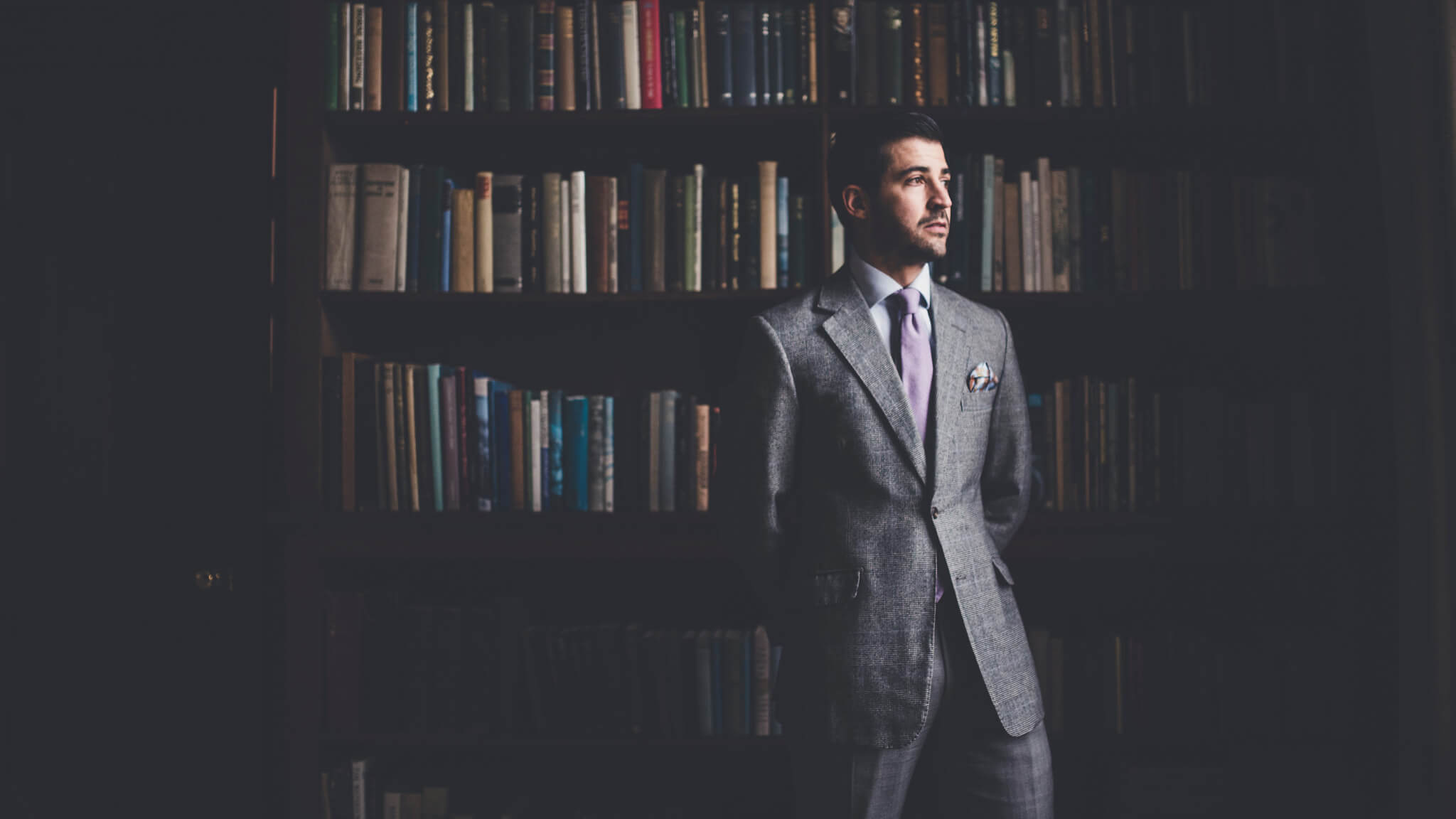 The chances are, your first tailor made suit was a cautious, conservative choice. This prudence is perfectly natural; to choose a solid grey with two buttons, notched lapels and standard pocket and button configurations. 'Standard' is useful. 'Safe' is a refuge in times of uncertainty. 'Sensible' works.
However, for your second tailor made suit, you should try something a little different. Nothing too outrageous. These suits are only really for those who already consider themselves 'well-stocked' and don't mind splashing out on something frivolous. A tailored suit that they might only wear when they require the attention of all passers by. While avoiding this extreme approach, you still might consider the ingredients that go in to making an unusual, more individual look.
COLOUR
Your second tailor made suit could perhaps be an unusual colour. Though dark blue or mid-grey were the likely choices for your first suit, now that you have broken through this inevitable formal opening ceremony, you can start to wade through the colour spectrum with a little more ease.
Mid-blues and light greys have character and can look quite sleek and chic – a la Mad Men – if made in a simple, slim-fit single breasted style with one or two buttons. Brown worsted is a wonderful choice for autumn, and a perfectly smart way in which to break the 'No brown in town' rule.
PATTERN
Chalk stripes are back and there is no better season for them than the impending one. When made well they have a gorgeous, sepia quality, reminiscent of a Gregory Peck or Cary Grant ensemble. They look very smart in a three-piece format – a double breasted version with lapels would be particularly fine – and it is always a good idea to get striped suits made properly; i.e. with proper pattern matching.
Window checks are particularly English and rather Marmite-ish; some adore them, some hate them. However, if the suit is well cut, the pattern matched properly and the shirt and tie choice sensible, it is difficult to dislike the charm of this tailored suit choice. No one looks miserable or old in a window check suit. Add a natty lining and you'll smile every time you put it on.
POCKETS
Chances are, the pocket configuration of your first suit was practical and cautious; two, non-slanted. As smart as this configuration is, you can really work with a tailor made suit to make the way your pockets sit a stand alone feature; slanted pockets look rakish. They flatter the torso shape of the wearer by drawing attention to the slimmest part of the jacket. Add a ticket pocket to create asymmetry which makes the overall look far more satisfying and interesting.
BUTTONS
Buttons are very noticeable on garments, especially at close range. They become the focus after the material and cut have been analysed. Getting 'different' buttons right is all about selecting colours and styles that work well together and about choosing the right sort of buttons for an occasion.
On mid-blue suits, for example, dark horn buttons are one of the best choices as the brownish tones complement the coolness of the suit. This effect is particularly striking on a double breasted suit. Wedding waistcoats look glorious when made with mother of pearl 'shank' buttons, grey chalk stripes look splendid with dark browns and evening jackets look best with ribbed silk shanks.
The other choice for buttons relates to the cuff. The fewer the buttons the more formal the suit looks. The more buttons there are, and the more varied the spacing, the more casual it tends to come across. Two buttons work best for very formal suits and up to five for less formal suits. Kissing buttons are rarer but no less formal than non-kissing buttons.
Whatever your final selections there is no doubt that commissioning your second tailored suit is a logical step up from your first and a solid investment in your future wardrobe. With the right after-care, your second suit will stand the test of time and inevitably lead to the joy of a third.
MORE
The Golden Rules of Bespoke Tailoring
Our Top 5 Tailored Suits
Suit Cloth – The Super Numbers