Building a Bespoke Tailored Wardrobe: Part 1 – The Essentials
August 14th, 2018
It's a big question that we are often asked – how does one go about building the ideal bespoke tailored wardrobe from scratch? What are the key pieces, the foundations if you like, and in which order should they be considered?
From your formative suits, shirts and separates through to the finishing touches of dinner suits, overcoats and gilets, the well-crafted bespoke wardrobe is a thing of true beauty. Opting for style over fashion, taking good care of each garment and watching your waistline will give you a bespoke tailored wardrobe that provides sartorial satisfaction for life.
In this instalment we cover the foundation pieces, getting you off to the best possible start.
A Mid-Weight Navy or Dark Blue Two Piece Suit
This is your classic all rounder. Buy single breasted, one or two buttons, in a 9oz-11oz weight plain cloth, for wearability through spring, summer and autumn.
Bespoke Shirts
There is nothing worse than an ill-fitting shirt under your finely crafted bespoke suit. Bespoke suits are all about the fit and silhouette which an off the peg shirt does little to compliment. If you're investing in bespoke business suits, it makes sense to invest in bespoke shirts too. Start with plain white cotton then gradually add interesting textures, understated colours and subtle patterns.
A Mid-Weight Mid to Dark Grey Two Piece Suit
The wingman to your navy suit, again purchase single breasted, one or two button, in a plain 9oz-11oz cloth for spring, summer and autumn wear.
A Heavy Weight Winter Flannel Three Piece in Blue or Grey
For the colder months, a winter flannel three piece in a plain 11oz-13oz cloth is a must. The waistcoat adds warmth and versatility when the weather is unpredictable.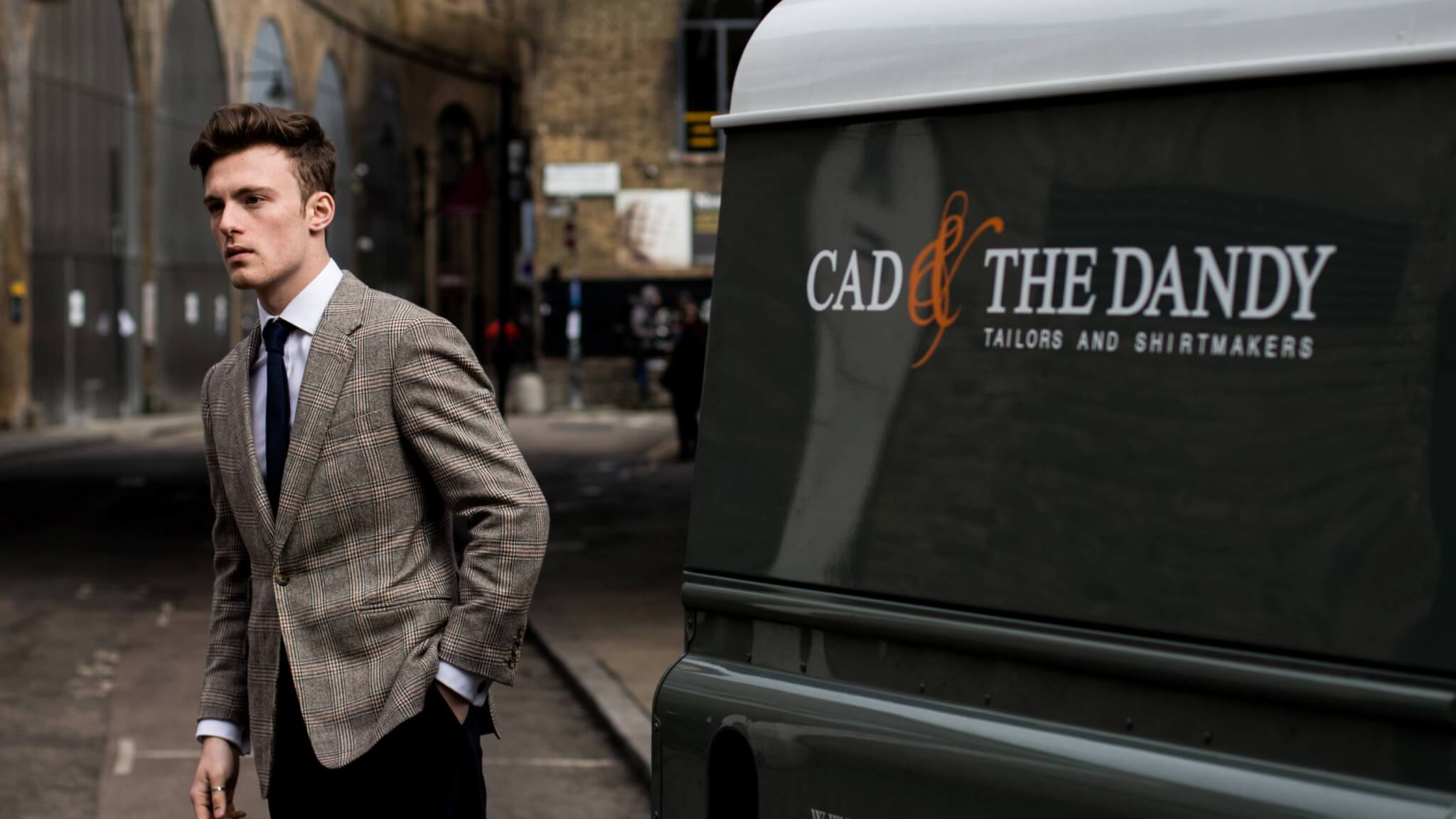 Two Mid-Weight Casual Jackets
The idea here is to add some texture and depth to your foundation pieces. Stick with 9oz-11oz cloths to compliment your navy and grey suits but consider interesting checks, unusual patterns and different yarn mixes for a variety of occasions.
A Winter Casual Jacket
A garment to compliment your winter flannel three piece, this should be 11oz-13oz in an interesting pattern – flecked, tweed, sports check, etc.
An added advantage of these key pieces is they can be mixed with the existing, more casual items in your wardrobe – jackets paired with jeans and chinos, tailored trousers worn with relaxed polo shirts and plain t-shirts for the summer.
In our next instalment, Part 2 – The Additions, we focus on the garments that make up more comprehensive bespoke tailored wardrobe, servicing the needs of various occasions and environments.
To find out more about our bespoke tailoring services drop us an email savilerow@cadandthedandy.co.uk / city@cadandthedandy.co.uk, or call 020 7434 4344 (Savile Row) / 020 7283 1975 (City)
Alternatively, you can book a wardrobe consultation with one of our tailors via our online booking system – www.cadandthedandy.co.uk/book-an-appointment
MORE
Buying your Second Bespoke Suit
Style Guide – Mixing Bespoke Suits & Separates
The Golden Rules of Bespoke Tailoring