New Business Rules: Relaxed Seasonal Tailoring
February 26th, 2020
New business rules dictate more relaxed seasonal tailoring and workwear. Office environments have evolved, becoming more casual with the passage of time. Far from the pinstriped suits, bowler hats and walking umbrellas that comprised the City gent uniform of yesteryear, today's workwear extends from unstructured suits to relaxed separates.
What started as Dress Down Friday has evolved to become a less restrictive office dress code applied throughout the working week. Still, this new approach is no excuse for sloppy or inappropriate dressing. After all, its important to maintain your professionalism at the office – efficient but relaxed at the same time.
We all know that a little effort goes a long way so, bearing the seasons in mind, we've put together some tips to keep you looking your best in this new era of business casual.
SPRING & AUTUMN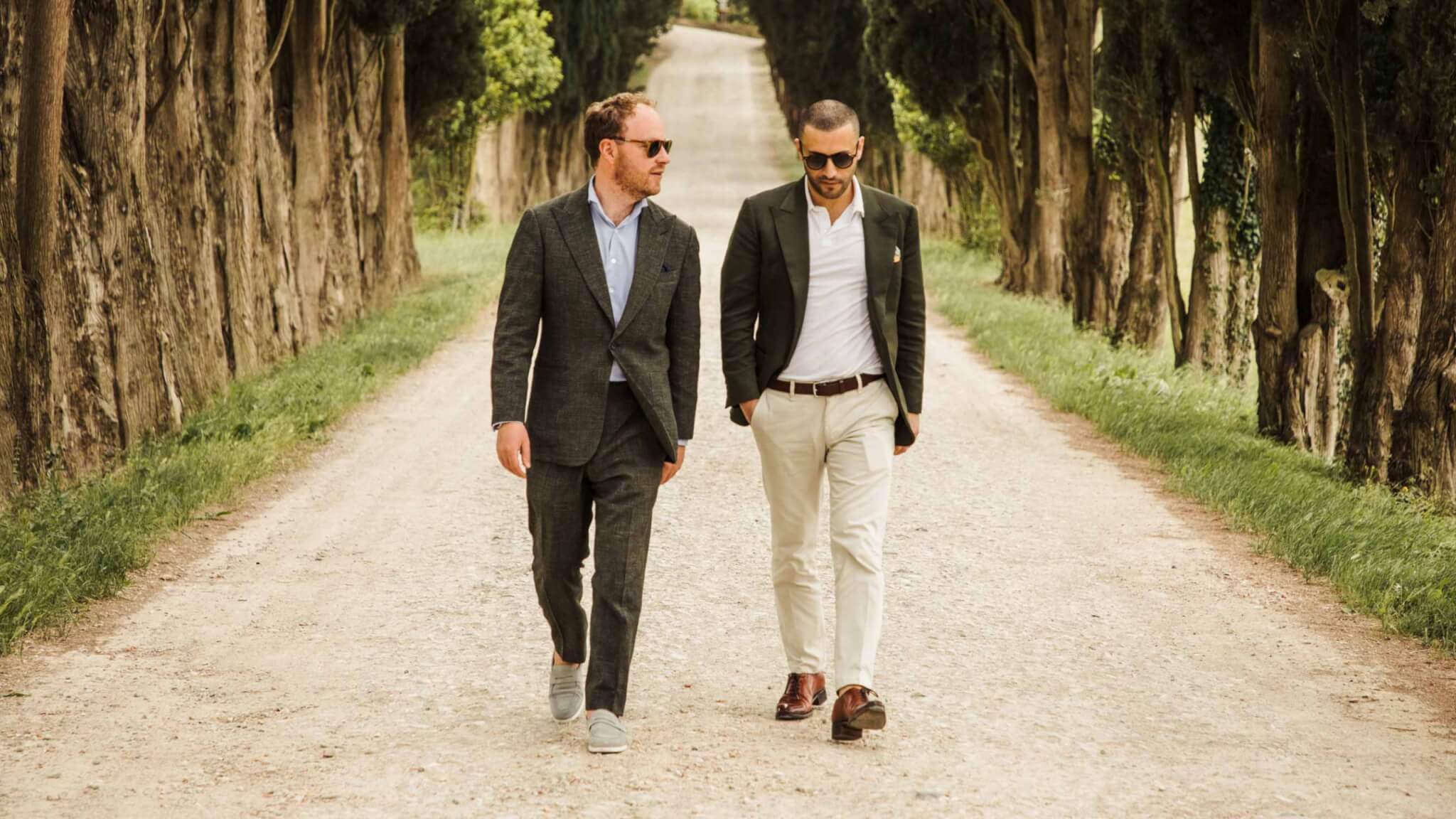 Not warm, not cold either. Mix your bespoke separates for some stand-out looks.
Best foot forward in the form of a stunning suede chukka boot – a staple that can be worn for most of the year. Some light cotton chinos in a mid weight cotton, cashmere mix or bamboo will ensure all day comfort.
Opt for a tailored oxford shirt with a button down collar or a light knitted polo shirt, underneath a mid or deep tone unstructured blazer. Complete this relaxed but smart look with a pocket square, a chronograph watch and a slim wallet.
SUMMER
The sun is shining and temperatures are on the rise. Staying cool is a must, but shorts in the office are simply not an option.
Ideal summer choices come in the form of lightweight 2-piece suits and separates in neutral shades of oatmeals and pale pastels. Combine with a soft cotton shirt or high-quality plain white t-shirt, neatly tucked into your suit trousers. Pair with some all-white trainers, avoiding any noticeable branding. Overall, you want to keep things understated and simple.
Wear with no-show socks and keep accessories to a minimum – a simple watch and an all-important pocket square to add a flash of contrast colour. Not forgetting the essential finishing touch, a good pair of summer shades. Wayfarers and aviators are a classic choice while a club master or rounded lens give a more daring look.
WINTER
Cold weather brings the opportunity to wear flannels and tweeds. Easily the best of the casual bunch, these cloths make layering and separates a simple option.
Starting at the bottom, a pair of leather boots with a rubber sole and some warm socks will perfectly complement a pair of tweed or flannel trousers. Add a soft knit, long sleeved polo shirt or brushed cotton shirt under a fine knit sweater. Combine with an unstructured jacket in a contrasting cloth or a matching classic suit jacket.
Top it off with an overcoat in a mid to heavy weight cloth with a raglan cut sleeve. This cut allows for less restrictive movement, while still retaining an elegant silhouette. Finish with a soft knit scarf and smart leather gloves. A statement watch and elegant laptop case complete the necessary style components for the most challenging weather days.
Book a Consultation with one of our tailors for your workwear wardrobe refresh.
MORE
Our Unstructured Jacket
Winter Cloths: Three Seasonal Favourites
The Classic White Pocket Square