Bespoke Casual Wear & Separates
At Cad & The Dandy, we make a diverse collection of bespoke clothing for a discerning clientele.
From formalwear to bespoke casual wear and tailored separates, our passion for bespoke tailoring, our knowledge of the craft and our commitment to style remains consistent throughout.
Taking our cues from a wide spectrum of influences and key looks, we offer a range of casual shirts, trousers and jackets to suit all tastes.
With an extensive range of cloths at their disposal, our team of expert tailors work closely with clients, throughout the bespoke process, to deliver impeccable garments and excellent customer service.
– We have thousands of cloths to choose from
– Bespoke trousers start at £330, jackets at £1090
– Our expert tailors will advise on all aspects of the process
– Book online in London, New York or Stockholm
– Garment construction takes 8-10 weeks, on average
Related Blog Posts
Read more about our casual wear and separates in the blog posts below.
Bespoke Engineering: Jacket Pockets
April 19th, 2023
In terms of the features that shape the appearance of a suit or sport jacket, pockets are secondary only to fabric and lapel shape. But while the difference between a […]
Hop to It: The Airy Appeal of Hopsack
August 16th, 2022
As temperatures rise, those who aspire to dress well often look to linen. And while we don't have a bad word to say about linen — we positively love Irish […]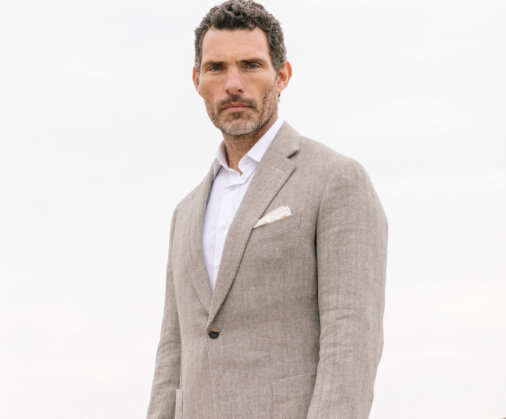 Linen to be Lived In: The Joys of Irish Linen
June 19th, 2022
As summer temperatures reach their peak, it's inevitable that anyone with a penchant for tailoring might turn to linen for relief. The plant-based textile can be a life saver in […]
Chart a Course for the Peacoat
February 1st, 2022
Alongside the turtleneck, the deck jacket, and the double-breasted blazer, the peacoat belongs to that esteemed club of menswear classics first introduced as naval wear. But while others may forever […]